The trowel is a common tool in masonry work. There are different masonry trowel types, and it can be used for various purposes such as leveling, shaping and laying concrete. It is arguably the most important tool in bricklaying.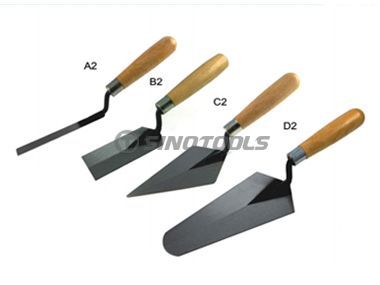 The masonry trowel is manufactured from materials such as stainless steel and carbon steel. It is available in different shapes, sizes and types.
There are two most popular masonry trowel types -brick trowel and pointing trowel. In this article, we will focus on these two types of masonry trowels, introducing their characteristics and uses. We hope it will be helpful to you.
Masonry Trowel Types
1. Brick Trowel
When you lay bricks, you want to have the proper tools to do the job. A brick trowel should be one of the first tools that you purchase. It is probably the most important tool in the entire brick laying process and is equally essential.
If you know anything about bricklaying, then you should understand that the job involves setting the bricks and laying the mortar. A brick trowel is designed for this purpose. It is the tool you use to smooth things out and will work throughout your job to help you get the perfect result.
Having a brick trowel will make laying bricks as easy as possible. You can use the blade of the trowel to help you position the bricks and smooth out the material. Using this tool, you will be able to pick up a sufficient amount of mortar and always be able to put it where it needs to be.
The blade of the brick trowel is made of steel that is strong and durable. If you take proper care of the brick trowel, it will stand up to years of use. It is no wonder that brick trowels are one of the primary and most popular masonry trowel types.
2. Pointing Trowel
The pointing trowel will be another type of masonry trowel that you will use when doing bricklaying work. It is used to perform specific tasks. For example, when you need to add a finish to your brickwork, a pointing trowel is the most suitable choice. The design of this tool makes it ideal for getting close to the brickwork and adding the finish properly.
The pointing trowel can also be used to level things and spread mortar where it is needed. However, it is more commonly used for precise shaping work. Masons usually use a larger brick trowel to do most of the work, then switch to a pointing trowel to finish up and shape the bricks accurately. This way, masons can complete the project correctly.
Sorting out the different masonry trowel types is not an easy task, and you may confuse a pointing trowel with a brick trowel. Remember, the two tools look similar, but the pointing trowel is smaller. It is also designed to fill small cavities that a brick trowel can't get into. It can easily get into tight corners of the brick base.
With these tips, you are now able to procure the right trowel for your masonry project. SINOTOOLS offers quality masonry trowels to meet your various needs. If you want to buy masonry tools, choose us and you'll get the best value for your money.
---
FAQs
1. Q: What is your minimum order quantity (MOQ)?
A: It varies depending on the product, normally ranging from 500-2000 pcs.
2. Q: What is the unit price?
A: The price depends on the order quantity and product quality. You can send us an inquiry to get a quote.
3. Q: Can I customize my logo/label/package?
A: Yes, we offer all kinds of custom services.
4. Q: What is the lead time?
A: Normally 45-90 days.
5. Q: Do you offer samples?
A: Yes, we do.
6. Q: Do you have more clear pictures of the products?
A: Yes, we do, please send email to us to get more information. Or you can send us your pictures for our reference, we will send you the quotes accordingly. Our email is info@sinotools.com.