What tools do you need for gardening? While long-time gardeners are familiar with tools, beginners may not be. Here is a guide from SINOTOOLS of important gardening tools and their uses to help more people learn about them.
The right tools can make a big difference when building a garden for the first time. Sharp tools will make gardening easier and save you time. Don't get caught up in the overabundance of new and exciting gardening tools. Choose basic, quality, durable tools that will last a lifetime.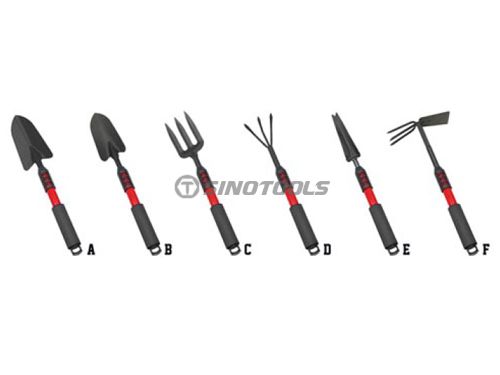 Gardening Tool Set
1. Hand Trowel
A trowel is a small hand tool used to dig small holes in the ground for seeding, to measure depths in the soil, and to dig out hard weeds. Choose a small trowel with a narrow, sturdy blade (stainless steel is great) that cuts easily into the soil as well as having a comfortable grip. It's a gardener's best friend.
2. Hand Fork or Cultivator
Another basic tool for gardening is called a "fork" or "cultivator". It is useful for cutting through the soil to remove small weeds and loosen the soil, both in the garden and in pots. Don't skimp on this tool! Cheap forks can break on the first use. You need a very sturdy handle and shaft, as well as a strong bond between the shaft and the head joint.
3. Long-Handled Shovels and Spades
Long-handled shovels usually have a flat edge with a straight edge and are suitable for digging straight-sided holes, cutting roots, removing plants and weeds, and making edges. Garden shovels with pointed and rounded blades are also available; they are suitable for digging holes and moving soil.
4. Hand Pruners or Pruning Shears
If we were to choose one of the most important gardening tools, it would be a pruner. Manual pruners are very versatile and can cut or trim small branches from perennials, shrubs and trees. Choose a bypass pruner, which means that the top blade cuts through the bottom blade so that a quick, tear-free cut can be made, allowing plants to heal quickly. (Another common type of anvil pruner has a top blade that bites into the bottom blade. This can damage the stem or branch you're cutting). The manual pruner also allows you to harvest mature vegetables without damaging the plants. Remember to choose razor-sharp blades and a comfortable grip.
5. Watering Can
A watering can allows you to water plants evenly anywhere and is ideal for a little watering. It should have a minimum capacity of 2 gallons, but should be easy to carry when full. Choose a plastic or metal container with a removable spout. Also, keep a small watering can handy, especially when watering small mixtures.
6. Garden Fork
This is another type of digging tool. Garden forks (similar in appearance to pitchforks) can be used for turning soil and compost, digging up root crops, and dividing perennials. The metal teeth are long enough to pierce the soil easily and avoid small stones that can interfere with plowing.
7. Garden Hoe
The hoe is used to remove shallow-rooted weeds effortlessly. It is also used to make furrows for seeding, as well as to break up clods of soil. Hoes come in many different shapes and sizes. Make sure the metal head is firmly attached to the handle. Smooth wooden handles will resist splintering.
We've put together a collection of all the basic gardening tools and their uses, designed to help you learn how to take care of your garden. You can visit our product pages where you will find a range of gardening hand tools. Feel free to contact us at any time.