In the realm of outdoor exploration and adventure, having handy tools can make all the difference. Among these tools, a folding pocket knife is an indispensable and versatile companion for outdoor enthusiasts and explorers. From camping to hiking, the benefits of a well-designed pocket folding knife are varied.
In this article, we will delve into the advantages that folding knives bring to the outdoors.
The Pocket Folding Knife is a small, foldable cutting tool that fits neatly into a pocket or pouch. Its clever design folds the blade into the handle, making it both portable and easily accessible. This compact design, coupled with a large selection of features and blades, makes the Pocket Folding Knife a must-have for outdoor enthusiasts seeking a reliable and practical tool.
Versatility of Pocket Folding Knife in the Outdoors
1. Camping and Hiking: Whether you're setting up camp, preparing a meal, or clearing a trail, a folding knife comes in handy. It can help with tasks such as cutting rope, working with stone, and even handling kindling for a campfire.
2. Fishing: Anglers benefit from the precision of a pocket folding knife. It can help with cleaning fish, cutting fishing line, and even making improvised fishing tools in a survival situation.
3. Survival Situations: The folding pocket knife can be used as a multi-purpose tool in unforeseen survival situations. It can help the user to build shelters, gather food, make signals or essential tools needed for self-defense.
4.. Daily Usefulness: Besides outdoor excursions, folding knives are also very useful in daily life. Opening packages, cutting loose threads and making small repairs become effortless.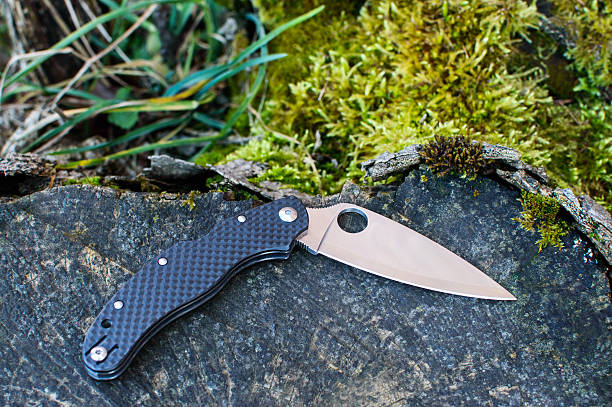 Advantages of Pocket Folding Knives
1.Portability: The pocket folding knife is designed to be compact and easy to carry. It can be slipped into a pocket, clipped to a belt, or carried comfortably in a backpack, ready to be accessed when needed.
2. Safety: The folding mechanism ensures safety by enclosing the blade in the handle when not in use. This not only reduces the risk of accidental cuts, but also ensures that the blade remains sharp.
3. Convenience: One-handed operation and quick deployment make pocket folding knives very convenient for tasks that require quick action or when the other hand is occupied.
4. Durability: A quality pocket folding knife can withstand harsh outdoor conditions. Quality materials such as stainless steel blades and sturdy handle materials ensure the durability and longevity of the knife.
6. Maintenance: Many folding knives are designed for easy maintenance. Cleaning, sharpening and lubricating the blade can be done quickly and efficiently to ensure optimal performance.
7. Multi-tools: Some pocket folding knives come with extra features, such as a built-in screwdriver, bottle opener, or can opener, adding even more utility to outdoor adventures.
Features of Quality Outdoor Folding Knives
A quality outdoor folding knife is an essential tool for outdoor enthusiasts, offering reliability, functionality and durability in a variety of activities. Here are some of the key features that a high quality outdoor folding knife should have:
1.Quality Material: The blade and handle are made of high quality material for excellent sturdiness and durability. The blade is made of stainless steel or alloy steel to maintain adequate sharpness and corrosion resistance. The handle is made of metal or wood for durability, strong grip and resistance to outdoor environments.
2. Compact and lightweight design: Portability is the key to outdoor activities. A folding knife with a compact and lightweight design will not weigh the user down when carrying or using it.
3. Multi-functional: Some outdoor folding knives, also known as multi-functional knives, are designed with extra tools or features. For example, built-in screwdrivers or pliers add versatility.