Whether it's a carpenter, a gardener, or a DIY enthusiast, there are always tasks that require cutting. It's at times like these that a hand saw comes in handy.
However, there are many different types of hand saws. Each has its own characteristics and is suitable for different materials and tasks. If you are a hand tool dealer, then you should be familiar with each type in order to provide your customers with the hand saws they need most.
Below is an introduction to several different types of hand saws, covering a wide range of applications from cutting wood to metal. The purpose of this article is to help more people understand this important tool.
Types of Hand Saws
1. Hack Saws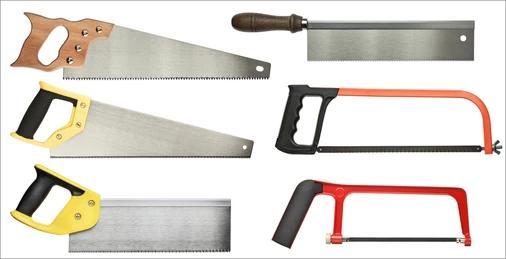 The original use of hack saws was to cut metal, but their thin blades also make them ideal for cutting thin materials such as plastic or metal tubes. It can occasionally be used as a multipurpose saw to cut wood, but is not as effective as a professional woodworking saw. Hack saws are one of the most popular types of hand saws and a great hand tool for small DIY projects at home.
2. Pruning Saws
Pruning saws are made specifically for gardens, and they can prune trees and large shrubs quickly and efficiently. Compared to gardening shears, pruning saws can easily cut larger branches and can be operated with one hand, making it easier to prune hard-to-reach branches. As one of the common types of hand saws, pruning saws are a great tool for small pruning jobs.
3. Bow Saws
Bow saws are named for their shape. It is a cross-cutting saw that is often used outdoors, for example to prune trees, saw off logs, and for various rough cuts. Because of the portability and easy use of bow saws, they are often used by outdoor enthusiasts or gardeners to clear brush. Also, the narrow blade of the bow saw provides better control and accuracy, and woodworkers or DIYers often use them as a must-have tool.
4. Folding Saws
There are many different sizes and shapes of folding saws. The blade of a folding saw can be stowed inside the handle, which makes this type of hand saw very portable and easy to store or move. The blade of a folding saw is similar to that of a pruning saw. In outdoor camping or gardening applications, folding saws work well when cutting fine branches or logs.
5. Camping Saws
Camping saws may not be a very common hand saw, but for most people who need a saw when camping, they are a very good choice. The most critical feature of the camping saw is that it is multifunctional, able to cut a variety of materials. It is also compact and lightweight, making it easy to carry. Camping saws do not take up much space and can be used to handle a variety of cutting tasks that one may encounter in the wilderness. This saw perfectly meets the needs of all campers.
Above, are the basic types of hand saws we have described. As you can see, each type of saw has different characteristics and uses. Saw users should take the time to reconcile which hand saw they need for their projects, and hand tool dealers should likewise be knowledgeable about the products they sell.
A hand saw is a simple but powerful tool. As a professional hand tool manufacturer, SINOTOOLS is always happy to share knowledge about all tools. Hopefully, this article will make the task of choosing a hand saw a little easier.