In this article, we will present plumbing tools used to solve problems with the drainage system of a house. What are their types? What is the purpose of each? Read on to learn more.
Plumbing Tools and Their Uses
The tools used to solve the problems of drainage, sanitation, and water distribution in a house are called plumbing tools. Plumbing tools include many types, and they have their own different uses and uniqueness.
Here we list some of the very common and most useful plumbing tools mainly used in plumbing projects.
1. Pipe cutter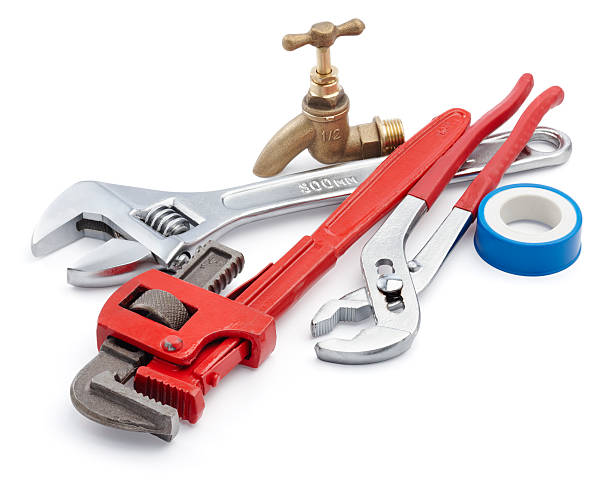 A pipe cutter is one of the most common plumbing tools used to cut water, sanitary or sewer pipes. Generally, solid, hook and chain type pipe cutters are mostly used.
A pipe cutter consists of a cutting reel, a moving reel base, screws and an adjusting handle. The moving reel base is adjusted to the pipe size with the help of the adjusting screw handle. The pipe is cut by the rotating cutter around it.
Slip joint pliers are sometimes referred to as channel pliers. They are similar to regular adjustable pliers, but have an extended adjustment section and angled jaws that allow them to grip almost any size pipe or other plumbing component. The long handles provide great leverage for squeezing and twisting. They can be used to grip heavy steel pipes or to gently tighten large plastic nuts on sink drains. If a plumber uses only one professional plumbing tool, slip joint pliers must be the best choice.
3. Pipe wrench
An adjustable pipe wrench is the quintessential metal plumbing tool. It provides great leverage and grip. It is designed to firmly grip round objects (such as pipes) by digging sharp serrated teeth into the pipe with increasing pressure as the wrench is turned.
d Pipe wrenches leave teeth marks and are not recommended for removing shiny fixtures or small or delicate pipes, such as copper water pipes. Pipe wrenches are mainly used on galvanized steel and iron pipes and heavy fixtures with rough surfaces, such as outdoor faucets or fire hydrants.
4. Hacksaw
A hacksaw is a handheld saw designed to cut materials such as metals and plastics. The small teeth on the hacksaw blade allow for clean cuts, while the handle and manual operation make it easier to control than power tools such as reciprocating saws and grinders. This makes the hacksaw the perfect tool for cutting metal and plastic pipe accurately and cleanly.
PVC pipe cutters are like super strong scissors for cutting plumbing materials like PVC pipe and PEX. PVC pipe cutters are driven by a ratchet mechanism, which gives them tremendous power to push the blades through hard materials. The thin, ultra-sharp blades create perfectly clean, straight cuts.
6. Pipe Bender
Benders are used to turn or bend pipes at various angles as required to achieve the assembly requirements of water pipes. Hand-operated benders are used to bend small size pipes, while hydraulic benders are used to bend large size pipes.