Taking care of a house has a variety of repair challenges, such as redecorating or moving in for the first time, then you may have to face some DIY work. With so much equipment, tools and products available to the novice, it can be overwhelming to know where to start. What do you really need to get started with DIY?
Don't worry, we've put together a list of basic tools for anyone who needs a do-it-yourself or DIY enthusiast newbie. If you're struggling with small repairs and installations, or want to solve home routines on your own, read on for guidance!
Essential Hand Tools for DIY Beginners
You can never go wrong investing in some safety equipment. If you're decorating or sanding, dust masks will come in handy. These masks are fine for sawdust and plaster dust, but for very fine powders, paint fumes and other chemicals, it is recommended that you purchase a respirator.
A pair of safety glasses is absolutely essential. Eyewear that meets the low impact protection standard will meet the need for eye protection in most scenarios. Loud noises - especially in an enclosed space - can be uncomfortable and can even damage your hearing. When using power tools at home, a simple pair of ear protectors will provide proper protection from loud noise.
Work gloves are an inexpensive way to protect your hands from minor abrasions and reduce discomfort during long hours of work. Likewise, foam mats or knee pads can be helpful in protecting your knees during long hours of work.
Measuring Up
For DIY, there are few measuring tools more important than a tape measure. No matter how keen your eyes or steady your hands, you can't just pick and choose. Even if you're just measuring furniture, your trusty tape measure is your best friend, along with a level to keep things straight.
Hand Tools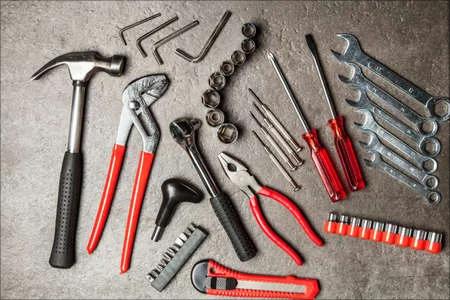 Screwdrivers are the DIY tool you'll use most often, so investing in a decent set will probably get you hundreds of jobs done. With so many different accessories, sizes and lengths of screwdrivers, it's easy to get carried away, but for everyday use, a Phillips head and flat head set is a solid starting point.
Similarly, a solid set of hex keys (also called allen wrenches) is another toolbox necessity due to the mass appeal of flat-pack furniture.
For all the finesse of modern fittings and fixtures, you'll still need a hammer, and a classic "claw" hammer is a good choice to start with. For putting nails in the house, removing them from fixtures and walls, and applying leverage where needed, a solid hammer is a lifelong tool.
An adjustable wrench is the most basic tool for handling nuts, bolts and pipe work with a simple twist. For pulling and prying off small fittings, you'll need at least one set of pliers.
Other Essentials
In addition to the various safety protection devices and basic tools mentioned above, there are many other accessories that are well worth the investment. They may not look impressive, but they can make your job a lot easier.
First, we recommend that you purchase a toolbox or bag. You don't want to have all your tools cluttered together and not be able to find the one you need when you use it. Use a toolbox to organize and protect your tools.
For quick fixes, a sturdy roll of duct tape is another must-have you'll need at some point. Whether you're sealing, wrapping, or making a temporary fix, duct tape is a back-up tool that takes a larger place in your toolbox.
Of course, if you're still not sure where to start, SINOTOOLS has a combination tool kit for you as well. It contains most of the basic tools mentioned above to help you get started on your DIY journey.
Feel free to contact us with any questions!