For any workplace with a need for constant visual attention, or for tasks that require a lot of visibility, LED work lights are a great choice. These lights are specifically designed to give workers the visibility they need to do their jobs, and no task is too small for LED lighting. Here's everything you need to know about choosing the perfect LED work lights for your space.
What are Work Lights?
Work lights are high-power, high-lumen industrial lights, similar to floodlights, that can be used to illuminate large areas. They can also be referred to as beacons, generator lights, scene lights, field lights, spotlights and task lights. There are two main types of task lights: one powered by gas or an external power source, and the other is cordless work lights that are powered by batteries.
There are also different types of bulbs for work lights, with halogen, fluorescent and incandescent lamps being common. However, today LED work lights are the most popular type. One of the major advantages of LED work lights over traditional lighting is the brighter light.They are more cost and energy efficient and produce little to no heat compared to other types of bulbs.
What are Work Lights Used for?
Work lights are an important tool on the job site because they increase safety and efficiency by allowing workers to see better, thus reducing the likelihood of accidents or mishaps. For example, construction work is usually done at night and work lights are essential. In addition to this, work lights can also be used to provide illumination on cloudy days or in dark places to ensure safety.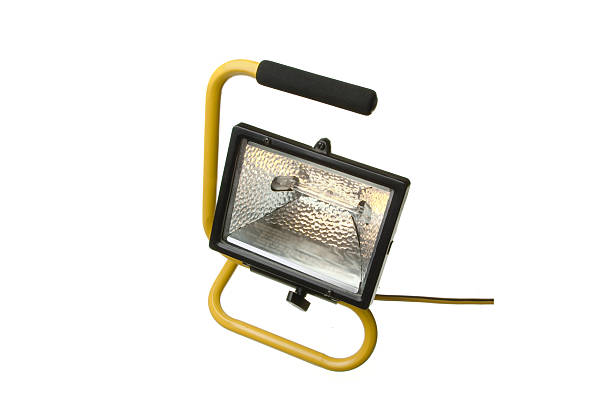 Which Industries Need Work Lights?
Speaking of who or where one might use a work light, there are many industry and leisure applications for work lights.
1. Railroad and Road Construction
Work lamps are ideal portable lighting for road construction crews or railroad engineers at night. Having portable work lights on the job site as backup emergency lighting is one of the foundations of ensuring construction safety.
2. Fire and Rescue Services
First aiders often need to quickly clarify the situation at the scene of an accident. Therefore work lights are necessary when light is scarce. Fire and rescue professionals also need site lighting to ensure that they are able to extinguish fires or protect accident sites at all times and under all conditions.
3. Police and Military
Work lights can be quickly deployed to police checkpoints and crime or emergency scenes. Crime scene investigations also often require work lights or flashlights so that coroners and law enforcement officers can assess scenes in dark or remote areas.
Other applications include command centers, landing zone lighting for helicopters and other aircraft, sidewalk and perimeter lighting, and security checkpoints, to name a few.
4. Other Applications of Work Lights
There are many other applications for work lights in addition to those mentioned above. Any activity that takes place at night or in the dark is likely to require lighting and some of these other applications are listed below:
-Airports - aircraft refueling, baggage handling, landing area lighting and runway maintenance
-Traffic safety - roadside accidents, highway and road construction and maintenance
-Sports activities - outdoor nighttime training and competition
-Construction - usually at night
-Filming and videography - filming, photography and videography at night or in dark remote areas
-Backup Lighting - Providing backup lighting for facilities that require constant lighting in case of accidental light outages