If you're like many woodworkers or DIYers, you probably already have a few tools in your workshop. My guess is a drill, a saw, and maybe some clamps. We'll discuss perhaps the most important tool that can improve your woodworking skills tenfold: the wood carving chisel. Learn about the types of chisels, chisel sizes, the difference between steel, the difference between western and foreign chisels, tool safety, and much more.
What Is A Chisel?
At its most basic level, a carving chisel is a tool used to shape wood.
Chisels were used 8,000 years ago, and they have been a favorite of craftsmen ever since. Woodcraft chisel removes the edges of wood to make it look a little nicer. They can join two pieces of wood together to form a mortise and tenon, dovetail, or tongue and groove structure.
With a wood chisel, the joint between two pieces of wood can be made as strong as possible, taking advantage of the way the wood grows and its inherent strength.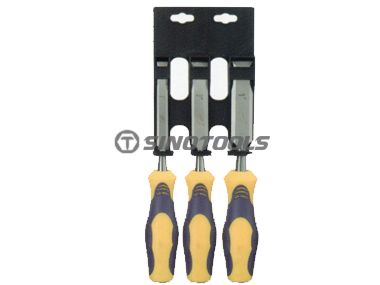 Wood Carving Chisel Set

How Many Carving Chisels Do I Need?
Every craftsman should have two sizes of bench chisels and a mortise and tenon chisel. However, many bench chisels are fat and you can use them to cut out tenons for quite some time before you need to invest in a mortising chisel.
What Size Chisels Do I Need?
If you live in the United States and are going to get most of your lumber from local sources, you will need two sizes:
3/4 inch chisel
1/4 inch chisel
The reason for this is that if you are joining two pieces of wood together (with mortises or tenons), a good rule of thumb is that you want the adjacent piece to be 1/3 the thickness of the main piece of wood.
So if we get a chisel of the same width as the main piece of wood (3/4") and a chisel of the same width as the adjacent piece of wood (1/4"), then we have the toolbox needed to join the two pieces of wood together.
Sometimes it is helpful to have a larger chisel that you can use to tap and remove large amounts of wood. A wider chisel, such as 1 1/2", does help, but is not necessary at the beginning.
Woodcraft Chisel Safety
It may come as a surprise to you, but the carving chisel is the most dangerous tool in woodworking (including the table saw). You never want body parts or anyone else on the other end of the chisel. Develop a routine that ensures all your "soft bits" are on the other side of the cutting edge.
I often see people trying to adjust a piece of wood with their fingers very close to the cutting edge because they can't control the tool or don't have a built-in stopper.
Learning to carve wood is easy, and acquiring any tool will give you a starting point for carving. Carving is a technical task, so it takes time. When it comes to creating delicate and accurate carvings, hand-carving tools is indispensable. SINOTOOLS provides wide selections of woodcraft tools including carving chisels, welcome to check our website or just contact us to find out more about woodworking tools.