How to remove the oil on the wooden handle of the hammer?
In the process of using the hammer, there will be a lot of oil stains on the wooden handle. When using the hammer, we should timely wipe the sweat and oil stains on the hand and the hammer handle, or the hammer may slip out of the hand and cause injury or damage to people. So how to deal with the specific, the following hammer manufacturer to explain the specific cleaning method.
Clear it can use dishcloth on right amount of soap and water to wipe the hammer China with wooden handle put on oil, soap and water can be decomposed the oil on the wooden handle, because the oil mainly of protein, fat, etc., the main ingredient in soap water is triglycerides, this kind of material can put the oil into small molecules, and then to dissolve them into it. After soaking in soapy water for a while, wipe the hammer with a cloth and adequate amount of water, but be careful not to use too much water, or it will wet the wooden handle of the hammer.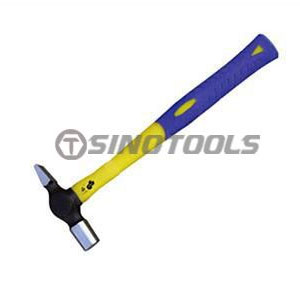 Cross Pein Hammer With Double Color Plastic-Coating Handle
The wooden handle is an important part of a hammer. It is used for people to swing the hammer head with their hands and thus hit other objects. Hammer manufacturer for your introduction hammer wooden handle appears broken condition, such as deterioration treatment can ensure the normal use of the hammer.
Want to solve the problem of broken hammer with wooden handle, the broken wood handle from the hammer head first and then look for a similar wooden stick root length, then peel the front end into a shape similar to that of original wood handle, and then embedded in the hammer head, then the increase in the gaps in the wooden stick and hammer of a small piece of wood, then embedded robust wooden stick, so a new wooden handle came out, but should pay attention to in the process of hammer used to cleaning and maintenance the hammer with wooden handle, so you can cut wood handle damage, is beneficial to prolong the using life.
Through the above methods, we can solve the problem of broken wooden handle of hammer manufacturers, so that we can get better use effect, more information about the application of hammer wooden handle can call our telephone number for consultation, looking forward to your visit.
The above is about the hammer wooden handle breaking method and how to remove the oil on the hammer wooden handle simple introduction, if you have other questions welcome to call for advice.