Turn the screwdriver is a kind of used to twist screws to force the tools in place, usually with a thin wedge head, can insert the slotted screw head or notch - beijing-tianjin-hebei JinYu lu and shaanxi shaanxi dialect is called "screwdriver", jiangxi, anhui and hubei, shaanxi guanzhong, known as the "driver", the central and western regions known
The important position of screwdriver
Turn the screwdriver is a kind of used to twist screws to force the tools in place, usually with a thin wedge head, can insert the slotted screw head or notch - beijing-tianjin-hebei JinYu lu and shaanxi shaanxi dialect is called "screwdriver", jiangxi, anhui and hubei, shaanxi guanzhong, known as the "driver", the central and western regions known as the "change knife", Yangtze river delta region known as the "screw driver. Screwdriver has very important position, Screwdriver Manufacturer China introduce the function of screwdriver for everybody below.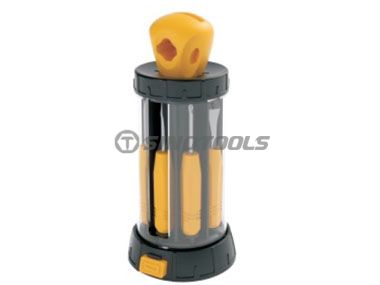 To repair a cell phone, you need a screwdriver to open the case (some cell phones have a concealed clasp without a screwdriver). But USES the screw mostly USES the hexagon screw; Different mobile phones have different specifications, generally T5, T6, T7, T8, some models also have special screws, need to use a special screwdriver. Also need to prepare some small words from the small plum screwdriver. In the selection of such tools, you should choose A, B set of batch, it almost includes all mobile phone shell opening tools. When opening the housing, choose a suitable screwdriver according to the type and specification of screws fixed on the housing. If the selection is not appropriate, it is possible to screw the groove of the flat, slippery phenomenon.
Above is the basic function of the screwdriver, As a very formal China Hand Tools Manufacturer, if the problem, welcome to inquire.