Points should pay attention to when using sledgehammer
Hammer manufacturer China to share the use of sledgehammer should pay attention to the point.
(1) the connection between the hammer head and handle must be firm. It is absolutely not allowed to use the hammer head that is loose from the hammer handle, and the hammer handle is split or cracked. Add wedges to the mounting holes for hammer head and hammer handle, preferably metal wedges, the length of which should not be more than 2/3 of the mounting hole depth.
(2) the middle of the handle is slightly narrower at the top than at the end in order to give it some flexibility on impact.
(3) when using the sledgehammer, attention must be paid to the front, back, left and right, up and down. People are not allowed to stand within the movement range of the sledgehammer.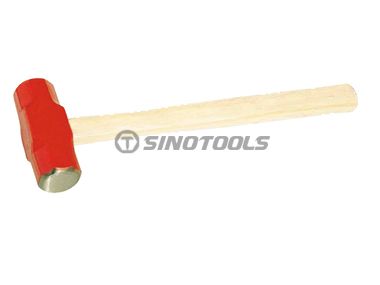 (4) the hammer head is not allowed to be quenched, cracked or burr, and it shall be timely repaired if flash burr is found.
Claw hammer can knock, hammer, and can pull out nails, but the larger workpiece should not use claw hammer. When nailing nails, hammer head should be flat nail cap, so that the nail vertical into the wood, lifting nails, should be in the sheep's horn pad, enhance the lifting force, should not be used as a pry hammer hammer, should pay attention to the hammer flat and intact, in order to prevent the nail flying out or the hammer slip injury.
Above is about some content that should be paid attention to using a sledgehammer to introduce, through the above introduction, believe that your knowledge of this aspect is a new understanding, hope to help you, if you still want to know more knowledge in this field, so please timely and we consultation, we will make the detailed introduction, believe that in this process, can learn a lot from it. We look forward to hearing from you. Wish you a happy life!