Types and use scope of threaded socket joints shared by Hardware hand tool manufacturer.
1. There are four types of threaded sleeve:
(1) ordinary isopod thread connection. Used for Ⅱ, Ⅲ ribbed steel bar connection.
Connection sleeve with reducing thread. For connecting steel bars of different diameters, diameter difference is not limited.
Thread connection sleeve with positive and negative teeth. It is used to connect the steel bar when it cannot be rotated.
(4) two-way movable connection screw sleeve. Used for connecting two fixed steel bars and steel cage.
2. Application of JL threaded connector
Dish threaded sleeve joint is suitable for all seismic and non-seismic seismic fortification of the wontons soil structure project. And give full play to the steel strength and ductility of the important structure.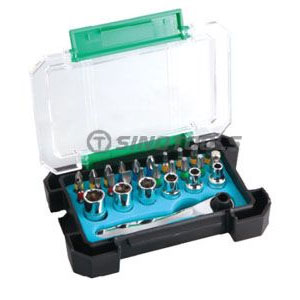 27Pc Screwdriver Bit and Socket Set
Technical features of steel straight thread sleeve:
1. High connection strength, stable and reliable connection quality. Joint strength of industry standard JGJ107-2010 "technical specification" reinforced mechanical connection of general grade Ⅰ joint in the performance of the requirements. The tensile strength of the joint shall not be less than 1.10 times of the actual tensile strength of the connected steel bar or the standard tensile strength of the steel bar. Good fatigue resistance. The joint has passed two million fatigue strength tests specified by the industry standard. Save materials. Take the straight thread of steel bars with a diameter of 40mm as an example, the extruded sleeve has a mass of 4kg, and the straight thread sleeve has a mass of 1.1kg. The quality of straight thread sleeve is 25% that of extruded sleeve, while the joint performance is comparable to that of extruded sleeve.
2. Convenient construction and fast connection speed. Steel wire head processing factory operation, does not occupy the construction period. Short time for site connection and assembly. Steel wire head processing is simple. The steel bar can complete the two processes of stripping rib and rolling thread by one time clamping, with fast processing speed and high precision of forming thread. Wide range of application. For the requirement of non-weldability of rebar, it is suitable for the same and reducing connection of rebar with diameter of 14~50mmHRB335 and HRB400 in any direction.
3. Environmental protection construction. Steel wire head processing and joint site construction no noise pollution, no flame, no smoke, safe and reliable. Save energy. The power of the equipment is only 3~4kw, no special distribution facilities are needed, no special wires are needed. Good resistance to low temperature. Low temperature test at -400c. All-weather construction. Not affected by wind, rain, snow and other climatic conditions.
As one of the biggest hand tools & hardware manufacturers and exporters in China, Hebei Sinotools Industrial Co.,Ltd. enjoys an excellent business relationship with our customers around the world. We supply