Both hand drills and power drills are very common and important tools in home improvement today. They are used to drill holes and fasten parts, but they also have more uses. Different drill types have different tasks they are suited for. Here is a guide to several types of drill tools used in home improvement.
Types of Drills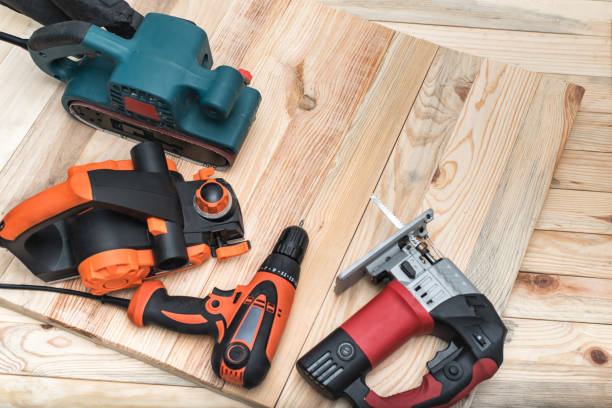 1. Hand drill. The hand drill was a common drilling tool in woodworking in the past. In today's increasingly diverse and convenient world of electric drills, the hand drill is still irreplaceable in terms of accuracy and cost. For example, for delicate decorative or circuit-related projects, a hand drill is a better choice than an electric drill.
2. Cordless drills. Cordless drills are available in a wide variety and are almost the most widely used power tools today. From home DIY to the construction industry, cordless drills play a significant role. Battery-operated makes them lightweight and portable, so you don't have to worry about tripping over wires and can use them one-handed anywhere.
3. Hammer Drill. The hammer drill produces an oscillating hammering action as the drill bit rotates. It is ideal for drilling through bricks, mortar and concrete blocks. A hammer drill is likely to be used for any task related to wall remodeling in home improvement.
4. Impact Drill. Impact drills are specifically designed to drive bolts, screws and other fasteners. A spring-loaded clutch mechanism behind the chuck increases the torque of the drill in regular increments. This makes the job of driving long screws and retrieving jammed screws much easier than doing it with a regular drill.
5. Earth Auger. In fact, earth drills can be considered a garden tool because their main purpose is to drill holes in soft backyard soil. Earth augers are useful when installing garden fences or planting larger plants.
Choosing the Right Drill
The drill has always been an important woodworking and machining tool, and is playing an increasing role in home improvement and repair.
For those tasks that can't be done with a hand screwdriver, there are now electric drills to compensate. In addition to rotating the bit for drilling, screwing or other functions, some bits offer a hammering action to drill through concrete.
With the popularity of electric drills, various portable cordless drills are gradually becoming the most commonly used power tools. If there are any special needs, such as additional torque, there are also a variety of specially designed power drills to meet them. Among the many types of drills available, finding the right one for the job requirements is the most important thing.
Common Drill Features
Whether corded or cordless, each drill has many of the same features.
Chuck: Used to hold the drill in place. Previous chucks had to be tightened with a key (which could easily be lost), but most of today's chucks can be tightened by hand. A slotted drive shaft (SDS) chuck holds an SDS-compatible drill bit without tightening. Simply slide the bit in and start drilling.
Jaws. The part of the chuck that fastens the drill bit. The drill differs in how reliably the jaws hold the bit in place.
Motor. Many new cordless drills offer brushless motors, which produce more torque, use less power, and allow for a more compact design. Corded drills have more powerful motors than cordless drills, so they can do more difficult jobs.
Variable speed reversal (VSR). VSR is standard on most electric drills. The trigger controls the speed of rotation of the drill and there is a separate button for reversing the rotation. The latter comes in handy when pouring out screws and pulling out bits.
Auxiliary handle. On powerful drills, this handle extends vertically from the drill body for tough jobs, such as drilling concrete.