Every seasoned craftsman and DIY enthusiast understands the importance of having a well-equipped workshop. Among the many tools that line the shelves and workbenches, the rubber mallet hammer stands out as a versatile and indispensable companion. This seemingly simple tool serves a multitude of purposes, making it an essential addition to any workshop.
In this article, we'll explore the versatility and significance of the rubber mallet hammer, shedding light on the myriad of tasks it can tackle.
Understanding Rubber Mallet Hammer
Before we dive into its many uses, let's get to know the rubber mallet hammer a bit better. This tool typically consists of two primary components:
1. Handle: The handle of a rubber mallet is commonly made from wood or fiberglass, ensuring a comfortable grip and precise control. The handle length varies, allowing for different striking angles and levels of force.
2. Head: The head of a rubber mallet is what sets it apart. It's composed of a solid rubber material that covers the striking surface. The rubber head comes in various shapes, such as cylindrical or rectangular, and in different hardness levels to suit various applications.
Applications of Rubber Mallet Hammers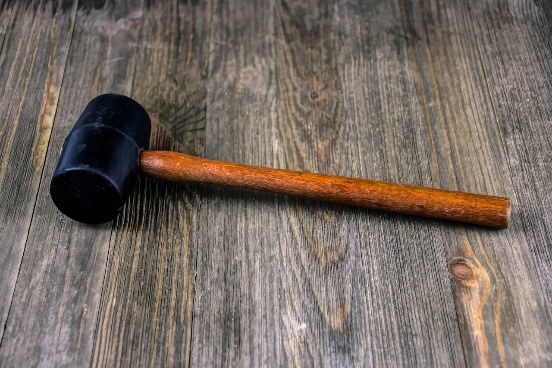 1. Woodworking: Rubber mallets are invaluable in woodworking for a range of tasks. They are often used to gently tap wooden joints together without damaging the wood. Additionally, they are employed for assembling furniture, adjusting woodwork, and setting dowels, ensuring a snug fit without causing dents or scuffs.
2. Tile Installation: When it comes to laying tiles, especially delicate or glass tiles, a rubber mallet is the tool of choice. It helps to even out tiles and ensure they are level while minimizing the risk of chipping or breaking.
3. Auto Body Repair: In the automotive world, rubber mallet hammers play a crucial role in auto body repair. They are used to reshape and manipulate metal panels without leaving marks or scratches. Auto body professionals rely on rubber mallets to restore the original contours of vehicles.
4. Leatherworking: Leatherworkers utilize rubber mallet hammers for tasks like punching holes, setting rivets, and stamping designs onto leather. The soft striking surface ensures precise and controlled results.
5. Metalwork: Metalworkers appreciate rubber mallets for their ability to shape and form metals without marring or damaging the material. They are employed for bending, stretching, and aligning metal components.
6. Carpentry: In carpentry, rubber mallets are used for assembling and disassembling wooden components. They are particularly useful in fine carpentry and cabinetry.
Advantages of Rubber Mallet Hammers
The rubber mallet's versatility and usefulness can be attributed to several key advantages:
1. Non-Marring: The soft rubber head ensures that the striking surface won't damage the material being worked on, making it suitable for various tasks.
2. Controlled Force: The user can apply controlled and precise force with a rubber mallet, making it ideal for fine or delicate work.
3. Reduced Vibration: The cushioning effect of the rubber head minimizes shock and vibration, resulting in less hand fatigue during prolonged use.
4. Noise Dampening: Unlike metal hammers, rubber mallets generate less noise when used, making them suitable for indoor projects and shared workspaces.
5. Wide Range of Hardness: Rubber mallets come in various hardness levels, allowing users to select the appropriate tool for their specific needs.
In short, with its gentle and precise strike, the rubber hammer is an indispensable tool for a wide range of applications. When working with wood, metal, tile, leather, or any other fine material, the rubber hammer gets the job done with precision and finesse.