You've likely seen the terms " utility knife" and " box cutter" used interchangeably, almost as if they were the same tool. However, while they have a lot in common, there are indeed differences in design and use. This begs the question: What is the difference between a utility knife and a box cutter?
The main difference between a utility knife and a box cutter is their use and what they can cut. A utility knife is more of a multi-purpose tool that can cut everything from wood to food. Box cutters are mainly used for cutting boxes, tape, plastic strips, etc.
To really tell the difference between these two tools requires a careful introduction and discussion. In this article, you will learn what they both are used for, what they can cut, and some types of box cutters to help you better understand before you shop.
What is the difference between a utility knife and a box cutter?
What Can Utility Knives Cut?
A utility knife has many uses. With a utility knife, you can cut all kinds of objects, such as rope and string. You can also do other tasks such as carving wood, cleaning fish scales, scraping skin, etc.
Interestingly, you can also use a utility knife to cut fruits, tender meats and sandwiches. You can consider the utility knife as one of the best multipurpose knives on the market.
What Are Utility Knives Used For?
Utility knives are commonly used in factories, warehouses, construction projects and other places where tools are needed to mark cutting lines. Utility knives are also used to trim plastic or wooden items or to cut tape, wire, strapping, cardboard or other packaging materials.
What Can Box Cutters Cut?
Box cutters have blades sharp enough to cut through any cardboard box, especially thick cardboard storage and moving boxes. That's why you often see stockers in warehouses and stores with box cutters. They make it easier to cut boxes, break down boxes and cut through thick tape without getting stuck.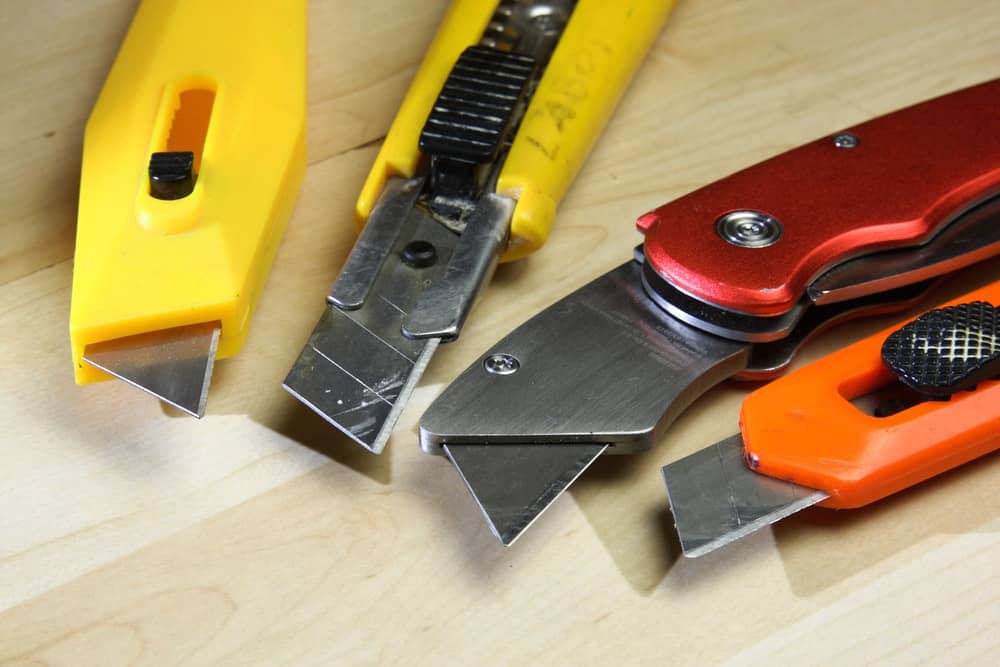 What Are Box Cutters Used For?
A box cutter is a common tool in today's workplace. While its primary use is to cut and open boxes, it may also be used for other tasks such as cutting plastic rope, stripping materials, making precision cuts, etc. Some carpet laying jobs in home improvement also often require the use of a box cutter.
Types of Box Cutters
Find out which box cutter is ideal for the job. It is best to research the various types of blades out there.
There are six different types of blades available:
-Serrated blade: A box cutter with a serrated blade may be a better choice for those who need to cut through more rigid materials like plasterboard. These edges are similar to those of a steak knife.
-Round tip blade: Rounded tip blades are box-cutting blades with rounded ends, as the name implies. People who wish to cut something but not necessarily penetrate it will utilize these blades.
-Scalloped blade: The scalloped edged blades are great for cutting through Styrofoam to avoid a potential mess because of this ability.
-Hook blade: Construction workers who lay carpet or linoleum, as well as roofers, frequently utilize a hook blade. The hook-shaped edge aids in piercing and controlling the cut.
-Pointed tip blade: An excellent option for individuals who need to cut plastic or fabric.
-Snap-off blade: A snap-off blade is segmented, allowing you to break off the dull portion and immediately use the sharp edge.
Which One Is Better: a Box Cutter or a Utility Knife?
While both tools have their advantages, utility knives are better suited for everyday use because of their versatility. On the other hand, box cutters are compact and easy to store and carry. They have a wider variety of blades to choose from, making box cutters a good choice if you need to quickly utilize your tools for multiple jobs.
SINOTOOLS is a professional supplier of quality cutter tools. On our website, you can find a wide range of models and styles of cutter knives to meet your different work needs. If you have any needs or questions, please feel free to contact us.