Camping is a fun but also somewhat challenging activity. But with the help of essential camping tools, it can be easy and handy. In this article, we will introduce what essential camping tools are.
Essential Camping Tools
1. Reliable Tents. There is no more classic symbol of camping than the tent. As one of the essential camping tools, a quality tent should have sturdy, waterproof fabric. This can protect campers from thunderstorms, snowstorms or other inclement weather. Tents come in different sizes, but any of them should provide plenty of space.
2. Knives. Knives can be used to prepare food, cut ropes, and perform numerous camping tasks. There are now also multipurpose knives designed for camping that can function as multiple tools at the same time. They are also very popular products in outdoor equipment stores.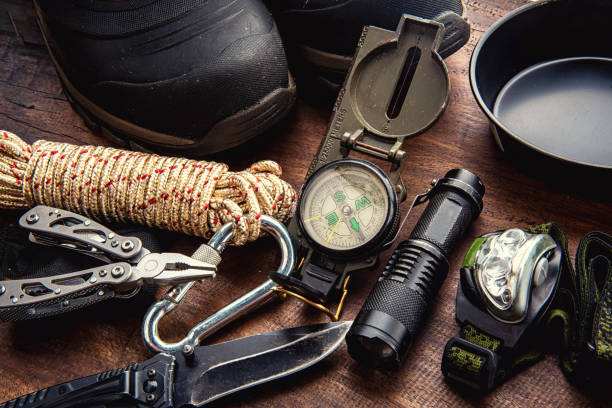 3. Axes or Hatchets. Axes or hatchets are essential camping tools that can be used to cut wood for a fire or to clear brush on a hike. Axes are huge and sturdy. They may not be suitable for backpacking, but they can be useful when breaking up large pieces of firewood. Hatchets can do the same job, they are smaller and easier to carry around.
4. Flashlights. Lighting is very important when camping in the wild. Campers may be walking or looking for items in the dark, and flashlights are therefore included as a essential camping tool. LED flashlights are better than ordinary flashlights, and they can provide 30 hours or more of good lighting per charge.
5. Mallet or Hammer. When setting up a tent, hammock or rope, nails need to be pinned somewhere, so hammers or mallets are needed.
6. Shovels. Shovels may be more useful for car camping. If the wheels get stuck in the snow or mud, a shovel is the most effective tool to solve the problem.
7. Handheld Emergency Generator. Most campers take their smartphones or other gadgets with them on their trips. Most newer cell phones have global positioning systems, which come in handy on hiking trips. Cell phones can also be used to call for help in case of an emergency when help is needed.
Unfortunately, smartphones have a limited battery that only lasts 4-12 hours depending on usage. This is why handheld emergency generators are listed as a essential camping tool. They are used to ensure that a cell phone or various small appliances are ready to use when needed. Some generators also have built-in radios, flashlights, solar panels and other features that will make camping activities much easier.
8.Tool Kit. This is a very broad choice, but a tool kit should be part of the essential camping tools. Basic hand tools such as work gloves, pliers, wrenches and screwdrivers can be included in the tool kit. Especially for car camping, these tools can be used for all simple maintenance tasks.
If you are a camping enthusiast, then you can buy the equipment according to our guide. If you are a supplier of outdoor equipment, then you can follow our guide to enrich your shelves and provide your customers with ample choices.
At SINOTOOLS, we manufacture all hand tools and power tools including essential camping tools. Feel free to contact us for any of your needs.