Tool manufacturing has always been an important part of the manufacturing industry. Properly designing and manufacturing hand tools is not as simple as it may seem at first. However, advanced technology has helped the manufacturing industry move from manually controlled machines to automated machines, which has largely simplified the task of manufacturing hand tools.
In order to manufacture efficient and functional hand tools, manufacturers use computer-aided design (CAD) and the latest machining tools to perform the manufacturing process. Most of the hand tool manufacturers nowadays can offer OEM & ODM services to customize the tools exactly as per the customer's requirements.
In order to manufacture quality tools, SINOTOOLS has the expertise and equipment, as well as an experienced production team. Each process of production is subject to strict quality control and the products pass international standard tests.
To help you better understand, we will explain in detail the process of hand tool manufacturing.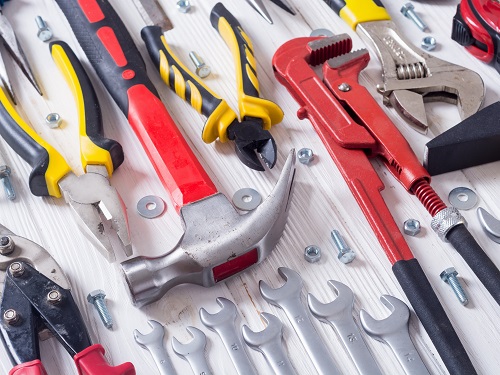 Manufacturing of Hand Tools
Hand tools are the backbone of manufacturing and a major contributor to the development of structures. Common hand tools include pliers, hammers, screwdrivers and wrenches. Since most of the materials used in hand tools contain metal, the process of manufacturing hand tools requires various metal processes (forging, stamping, hardening, etc.).
The process of producing hand tools often involves high-precision machinery to create products that meet strength and design. As technology advances, more and more machinery can be intelligently controlled and customizing products has become easier.
Once the various parts of the tool have been manufactured, they also need to be calibrated so that they can be sure they will meet the job requirements and standards. This is the same process that most manufacturers use to prove the quality of their products and meet the customization needs of their customers.
Die Making
Everyone who works in the tool making industry will know the process of tool making. It involves cutting molds that can be used multiple times to produce different parts of a hand tool. This process is carried out by pouring molten material, usually metal, into a mold. The molten material poured into the mold takes the form of a finished part. The molten material then cools and solidifies into the desired shape.
The mold can be used multiple times, effortlessly producing the perfect tool. Many manufacturers use this process to make a range of tools.
The Basics
The manufacture of hand tools involves the creation of blueprints backed by accurate testing. The same blueprints are then used to build tools that will help manufacturing organizations increase their productivity.
The right tools will help build large machines and equipment to increase your organization's productivity and reduce costs. Hand tools have become an important part of every industry, and every professional needs the best tools to perform their tasks safely and efficiently. Tools that are supported by ideal design help improve workplace safety and reduce the risk of accidental injury.
Conclusion
Hand tools are widely used in daily life and industry. Many professions, such as auto mechanics, carpenters, and more, cannot get the job done without professional hand tools. They are the foundation of modern industry.
As a manufacturer of hand tools with 20 years of experience, SINOTOOLS is confident to say that our products and services are among the leaders in the industry. The professional manufacturing process and team ensure quality products and services. If you have any need for wholesale purchase or custom hand tools, we can be your perfect choice.
We hope this article has helped you understand the importance of hand tools and how they are made. If you have any questions, feel free to contact us.