Petrol earth augers are a handy tool, especially for professional gardeners, people who do a lot of DIY landscaping, or those who are looking for an easier alternative to a shovel or hole digger. These are tools that can be used by anyone - from homeowners to professional gardeners and maintenance people. Anyone who needs a more efficient way to plant a garden, add landscaping or dig post holes can use these power tools.
In this article, let's discuss a few things about petrol earth augers so you know what to look for when shopping for these tools.
1. What Is an Earth Auger?
The drill bit is the most important part of the petrol earth auger. Auger heads come in a variety of shapes and sizes and there are many ways to use them. Smaller augers can be operated with a cordless electric drill, while larger augers require a power head. They are designed to make digging easier, especially in harder soils.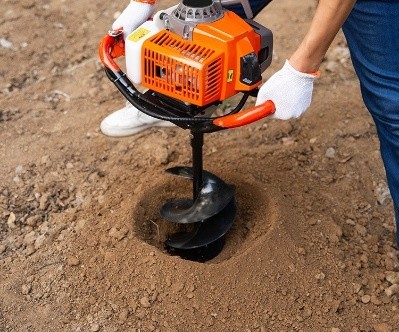 2. Why Do You Need an Petrol Earth Auger?
To explain why you might need an auger, it helps to understand the difference between it and other digging tools. Most of the tools one might use for digging - shovels, post hole diggers, etc. - require a very high degree of arm and hand strength. In addition, all of these tools require the user to bend over while working, putting a lot of strain on the back. An petrol auger can do the job faster than a shovel while allowing the operator to stand upright. Since the auger drill can remain stationary while drilling the hole, there is less pressure on the hands and arms.
For health reasons alone, the auger is a worthwhile investment. However, for those who have a lot of digging to do, a power earth auger becomes a necessity. Home gardeners faced with dozens of bulbs and annual and perennial plugs will find that with an petrol earth auger, planting jobs take much less time. On large projects, such as fencing or tree planting, power augers can minimize the time and labor required for excavation, resulting in cost savings for contractors and their customers.
3. What Can You Do With an Petrol Earth Auger?
What you can do with a earth auger depends on the size of the auger drill. Here's a quick guide to help you choose the best tool for your needs.
The two and three inch augers are ideal for gardeners and allow you to plant bulbs, plugs and bedding plants quickly and easily. This is also a good size for root aeration and can be used to grow smaller plants. A three-inch auger will do the same job as a two-inch auger, but it's also great for horizontal drilling if you need to lay pipe or wire under the pavement. It's also a suitable size for mixing paint, cement or soil.
Four- and five-inch auger drills produce larger holes that are ideal for setting smaller fence posts or planting a variety of annuals and perennials. Larger diameter drills can dig holes large enough to plant some trees or shrubs, or install larger size fence posts.
No matter what kind of work you want to do, we are committed to providing the variety of hand tools and power tools needed. If you have more questions, feel free to check out the product pages of our website, which have additional information about many tools for gardening, auto repair and etc.