Pliers are an important part of every toolbox, and they have multiple uses in industry and at home. As a multi-purpose hand tool, pliers are used primarily for gripping, bending and cutting. Two crossed metal limbs provide tough leverage that multiplies the strength of the user's hand.
While you can usually use a one-size-fits-all model, there are different classifications of pliers available for specific tasks. Choosing the right pliers for the right job will improve efficiency and safety. Today, let's start with understanding the uses of pliers.
Common Uses of Pliers
1. Gripping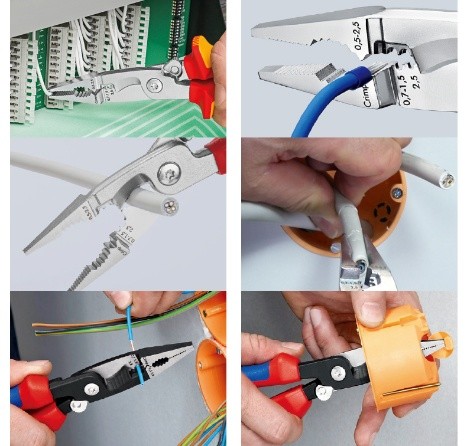 The primary use of pliers is for gripping. You can use them to loosen or tighten bolts, grip objects for stability, or pull out pins, nails, or other fasteners.
For example, slip joint pliers are a utility pliers designed for gripping and transmitting torque. They have relatively flat jaws with teeth for gripping small objects and a rounded, toothed opening for gripping larger objects, such as bolt heads and nuts.
Many pliers also have a small scissor-like section for cutting wire. Tenon pliers work similarly to multi-purpose pliers, but have long handles and offset or angled jaws for improved leverage. The jaws are height adjustable and can open wide to grip pipes and large nuts.
2. Bending/Straightening
The pliers can also be used for bending or straightening. The cross brace of pliers gives them superb torque power to bend and twist objects such as sheet metal, nails and wires.
All pliers can help bend things, so the kind you choose depends largely on the specific object you need to bend. Long-nose pliers or needle-nose pliers help you grip small objects that may be difficult to reach. Electricians usually use lineman's pliers to bend wires and cables.
3. Cutting
Some pliers can also cut wires and nails. Diagonal cutting pliers and side-cutting pliers, often called wire cutters, are primarily used to cut and sever wires. In most cases, their jaw construction makes wire cutters less suitable for gripping large objects, such as bolts. However, they are still considered pliers because of their ability to effectively grip and remove nails.
4. Splicing Wires/Stripping Insulation
Electricians use a variety of special pliers to splice wires and strip insulation. For this task, lineman's pliers are a popular choice. Using the wire cutter feature, you can cut through the insulation of one wire and strip off a small section to reveal the bare wire inside. If you do the same thing to another wire, you can use the pliers to help join or splice the two wires together.
Safety Tips for Using Pliers
Following are the safety measures that you should take while using pliers:
-Check the wire cutting capability of the pliers as well as all other features before using them for a specific application. When choosing the perfect pliers for your application, it is best that you have the necessary knowledge of all types of pliers.
-Always use pliers to cut wires at right angles.
-Some people often use a hammer to strike the pliers to cut thicker wires. This activity may damage your hands and the pliers. Therefore, never use a hammer on pliers or use pliers as a hammer.
-Do not put the pliers in a place where the temperature is very high. If the pliers are left in a place where the temperature is too high, the characteristics of the tool may change and no longer do the job perfectly. The plastic handles of some pliers may also be damaged by excessive temperatures.
-If you want to increase the life of your pliers, then you have to maintain it properly. Clean it regularly and you can oil the pliers every once in a while.
-Do not use the pliers to tighten the nuts.
In this way, we have introduced the main uses of pliers, their types and some safety precautions. We hope this article has been helpful to you. If you have any questions, feel free to leave us a message.