Just as carpenters and plumbers, electricians also have a list of basic tools belonging to their trade. Essential electrician tools are necessary to perform electrical work safely and efficiently. In this article, we've put together a list of electrician tools to help the novice or professional assemble their own toolkit.
Essential Electrician Tools
Pliers - Pliers are the most basic and important of the electrician's tools. Professional electricians usually have a set of pliers of different sizes to ensure that they can cope with different working conditions. Electrician's pliers should also be of high quality, comfortable to hold and able to open and close easily and smoothly.
Wire Strippers - Wire strippers are another essential electrician's tool used to remove the insulation from wires. There are multifunctional wire strippers that can be used not only for different sizes of wires, but also with cutting blades that can trim the wires.
Screwdrivers - Every electrician should have at least one flathead and Philips head screwdriver on hand. These tools are needed when removing or installing switches, outlets and covers.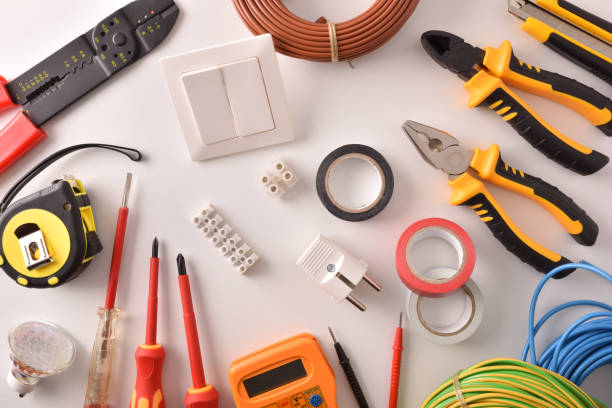 Electrical tools
Circuit Finder - This electrician's tool makes it possible to trace circuits and find answers quickly and safely, such as figuring out which outlet is connected to which directory.
Voltage Testers – Electricity can be dangerous, especially if you don't know which wires are live and which are not. A voltage tester makes it possible to see if any voltage is in a wire or device. These are a must-have item for electricians. Non-contact voltage testers are preferred because they can be used without handling the outlet or wire.
Multimeters – Analog and digital multimeters are available. This tool is used to measure several electrical properties that include resistance, current, voltage, and DC current. Older models can get the job done, but newer multimeters include helpful extras like thermal imaging and Bluetooth connectivity.
Other Electrician Tools
Tape Measure - A tape measure is a very simple tool, but it is one that every electrician should have. When it comes to completing electrical work, a tape measure is an essential tool for planning projects and budgeting materials.
Fish Tape Measure - A fish tape measure allows the electrician to wire walls and other areas. It consists of a thin, spring steel tape that can be guided in tight spaces. It retracts into a reel, making it easier to store and carry when not in use.
Flashlight - There is no doubt that a flashlight is the basic electrician's tool. Electricians are likely to work in basements, attics or confined spaces, even during the day. They need a bright flashlight to illuminate their vision.
Level - A level is an electrician's tool used in installation work. It is used to ensure that all work is level, including straight outlet covers, wall plates and switches. An uneven surface can lead to serious problems later.
Hammer - A hammer is another essential item that is a necessity for electricians and others who work in construction.
This list includes basic electrical tools, but professionals need more. The right tools are necessary to get the job done perfectly. SINOTOOLS offers a wide variety of wholesale hand tools and is happy to share tool use and purchasing guides. Feel free to contact us with any questions you may have.