The History of Axes
The axe is one of the oldest tools used by human. The oldest axes are known as hand axes.
A handaxe is a pear-shaped, roughly cut stone tool with a wide handle. Handaxes may have been used for many different tasks, from butchering animals to digging up tubers. Gradually, the design was refined to include knives, scrapers, and arrowheads.
When much later the axe was given a wooden handle, several different types of axe heads were developed. They can be divided into two main categories: non-axe bore type axe heads and axe bore type axe heads.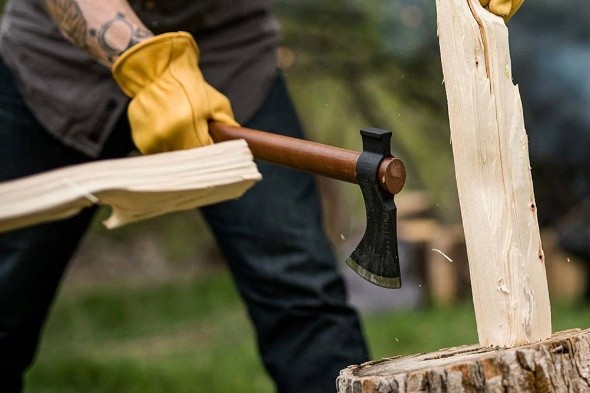 Bronze Age Axe Heads
During the Bronze Age (2000 BC to 500 AD in Northern Europe), stone axes began to give way to axes with copper and bronze heads. Initially, these axe heads were often pure replicas of stone axes. Bronze axe heads were cast in molds, allowing their design to be reproduced and mass-produced.
One type of Bronze Age axe head is the socketed axe head, where the axe handle is secured in a socket at the end of the axe head. Since this axe head was hollow and the handle was inserted into the axe head, a perfectly functional working axe head could be made with a minimum of material. Earlier socketed axe heads were quite long, but they were gradually replaced by smaller types in which the out-turned edge compensated for the smaller size.
At the beginning of the Iron Age (c. 500 B.C. in northern Europe), older axe types, such as socketed axes, were simply copied onto iron, but the possibility of new materials led to a gradual change in the appearance of axe heads. Axe heads without shaft holes disappeared and were replaced by axe heads with holes for handles. Axe heads also became larger, with wider blades.
Axes As Weapons
Like the club and the spear, the axe is one of man's oldest weapons for close combat. The earliest axes used as weapons were probably those used as tools, as these were close at hand.
"Ordinary" axes were used as weapons until recent times, and then gradually special axes for combat were born. Axes produced for the specific purpose of being used as a weapon in combat are called battle axes. People began making such axes as early as the Stone Age and the Bronze Age.
Axe Manufacture Today
With the development and application of modern machinery, the axe has disappeared from the realm of the forest industry. Chain saws and harvesters have completely replaced hand tools for processing millions of cubic meters of pulpwood and timber.
The axe is now used more for small jobs in agriculture, home and outdoor sports, just as it was before the rise of the forest industry. Many people also choose to use power tools like chainsaws, but the axe still has an irreplaceable role in certain jobs as a most basic hand tool.
Even the axes today are very different from when man first utilized this tool. Modern processes allow axe handles to be made of materials other than wood, such as rubber and fiberglass. They may be stronger, lighter, and can also fit the hand better for gripping. Stronger carbon steel is also used for the axe head, which brings very powerful cutting ability.
However, there are still very few manufacturers producing handmade axes. More specialized craftsmanship takes more time, and many other tools are used in the making process. For today's handmade axes, the most important factor is quality, not quantity.
If you are interested in hand tools, please remember that SINOTOOLS is one of the most professional hand tool manufacturers in China. Feel free to browse our website and discover more about the various tools.